By Rory Morrow- Deputy and Sports Editor
There have been many catchphrases that have arisen due to the pandemic that, once alien, are now commonplace to us. Popular among them; covid-19, face mask, social distancing, online learning, double jab and my personal favourite, new normal. Hidden beneath each of these (and many more) covid phrases are inherent politics. Certainly, within my lifetime, the sporting world, both here at Queens University Belfast and on a global scale, has arguably never been so politically rife.
This year's main QUB politics have revolved around the possibility of strike action by lecturers however politics has also impacted sports clubs. The recently founded QUBSports Social events every Wednesday night at the Speakeasy are great fun but like a lot of campus events cannot entirely escape politics. The continuing concern around UK spikings, especially among women, prompted the idea of protesting for action in the form of not going out, which was the "Girls Night In" movement. QUBSports Social joined over fifty fellow UK universities in boycotting bars and nightclubs on Wednesday the 27th of October. The campaign, akin to peaceful climate change marches, is extremely admirable and launched out of the UK government's so-far complete inaction to prove that they take the matter of drink spiking seriously. Whilst spiking ramifications are far more severe than those of petty politics, spiking remains such a concern among young people (rightly desperate to regain an enjoyable and normal social life) because of a lack of political drive to pass meaningful legislation. No, instead Boris Johnson has spent the past week being swayed to and fro by political pressure from his peers surrounding his controversial support of MP and friend, Owen Paterson, suspected of breaching lobbying rules. Thus, the current 15,448 signatures on a petition for the government to fund free drink spiking test kits to all bars and clubs should surely, you think, be seen as a growing priority for Johnson. Over 10,000 signatures require a government response of some kind to the matter, whether we get one or not remains to be seen. This, at university level, represents sport at least trying to work with the uncooperative and flat-footed politicians of today.
Across the water, since the Premier League's Project Restart in June 2020, players across the football league have been taking the knee for ten seconds prior to kick-off to send out an anti-racism message following the murder of George Floyd in the USA. There have been debates about its continued relevance as in February then-Championship club Brentford and QPR stopped taking the knee due to its "message being lost". Crystal Palace winger Wilfried Zaha, teammate Patrick van Aanholt and Chelsea's Marcos Alonso were among those players to stop taking the knee. Zaha called it "degrading" and Brentford's Ivan Toney said that it was allowing people at the top "to rest easy".
People at the top, you say. Of what, a ladder, the never-ending Halloween queue, on top of Slieve Donard's summit. Oh wait, the government. How predictably depressing. Anyone else feel we're living in a social hierarchy of incompetent white male dominance? Seeing as most players are continuing to take a knee this season, lets investigate what exactly this government has done surrounding the issue of racism. Hmm. Well despite both Home Secretary Priti Patel and Prime Minister Boris Johnson condemning fans who booed the knee at England games and racially assaulted players on social media, the term hypocritical rather springs to mind. After tobogganing on the country's feelgood factor generated by the football team, following the Euro 2020 final defeat, their messages for those abusing any player (Marcus Rashford, Jadon Sancho and Bukayo Saka were targeted after missing penalties in the shootout) to be "disgusted" and "ashamed" rather rang hollow. After all, these are the same two politicians who refused to condemn the knee-booing supporters a mere month earlier after a warm-up match against Romania. Funny, how then it wasn't
Boris but rather his official spokesman who stated, "the PM's full respect for those who peacefully protest" adding that he was "more focused on action rather than gestures". Indeed, Patel labelled taking a knee as "gesture politics".
And so, the aftermath of arguably one of sport's much needed and sweetly cherished tournaments, was not celebrated by lauding Italian fortitude, amicably arguing about Thomas Muller's miss, continuing to send well-wishes to Christian Eriksen or begrudgingly (in Northern Ireland anyway) acknowledging the superb journey underwent by Gareth Southgate and England. No instead Tyrone Mings was rightly lambasting Patel's hypocrisy and "gesture politics" tweet. Both office-bearers condemned those who abuse players online so there was a satisfying irony to the ruthless tone of Mings, like nearly everyone else, doing what we've wanted to for some time now. Call out the inept and equally cowering behind their screens, politicians under whose leadership of the country, racism (along with many other woes) has become such an unwelcome flashpoint of both sport and society. Whilst the FA were left pondering just how access inside a carnivorous Wembley had transformed from peaceful to violent and downright scary at times. This is not football's sole political adversary of recent times, who can forget the Capitalist-inspired European Super League plot? The ESL was political in the sense of enforcing the feeling of an inferiority between every club in English football and the "big six". A big six who between them have sacked an 18-games in charge manager, been thrashed by an aggregate score of 7-0 at home to their two biggest rivals and who have dropped points to Crystal Palace, Brighton, Burnley and West Ham in the last two weeks. Oh, what's that shattering noise? Could it be the sound of such a superiority complex being disembowelled by you know, actual football? Adding more political sleaze is the revelation that prior to the ESL being finalised, Johnson had met with Manchester United Chief Executive, Ed Woodward but deigned to mention it. One could imagine Boris's bluster going something like "Yes, Hello Ed. No, no. absolutely no plans for a major, greed-fuelled radical reform of football". Despite threatening a "legislative bomb", the only action taken was to publish a statement saying, "no action is off the table". Such a shame then that the table crumpled under the heavy weight of burdening yet another display of political inaction, lies and false promises.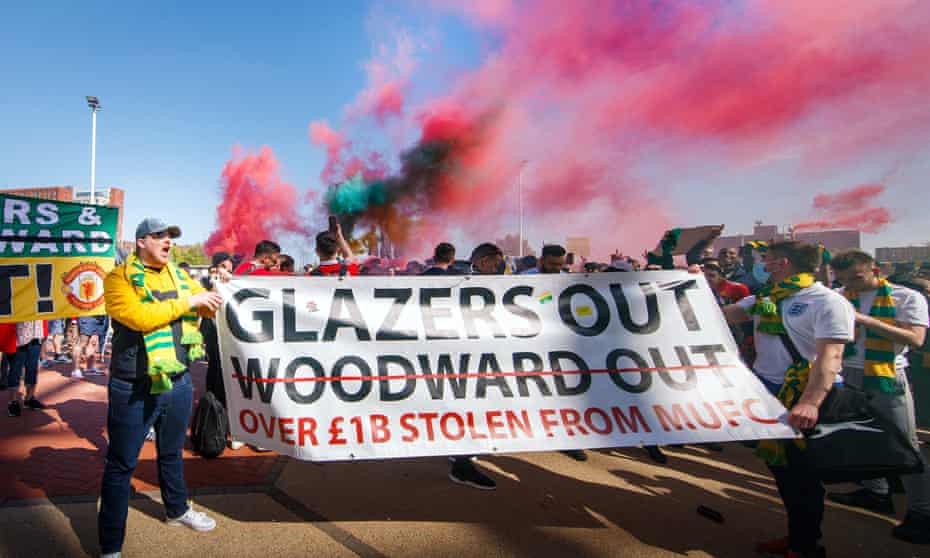 Still, it is hardly the biggest shock we've ever experienced. After all, what would we protest about if there was nothing even slightly untoward to protest about? Regardless, nothing excuses or justifies the continued lack of meaningful State action to tackling ever-expanding problems. In sport, Boris has been the football equivalent of a referee who knows he has just seen a player on a yellow card make another rash, inevitably doomed challenge but instead of sending him off, gives him a stern-looking reprimand. Finger wagging, whistle dangling, forehead sweating, oh it looks like a convincing show of authority. It's not, it's the most convenient and cowardly exit strategy for him. But politics has always been in sport, even in the relatively minor details of jersey choices the Celtic Rangers rivalry having a weary religious undertone of Catholics versus Protestants to it. Even the stereotyped rumours of catholic Dublin colleges accepting students based on rugby pedigree as much as academic rigour and personal statements, renders even the college comradery of team sport to be somewhat politicised. Above all else, what the return of crowds to wonderful mass sporting events of Wimbledon, Euros2020, rugby Autumn internationals, the Ryder Cup, the Belfast Marathon, has demonstrated is that the magic of sport still seems as strong and spiritual as ever. Only, in the wake of the quagmire of recent politics, that magic, sacredly shielded away safely from political negligence, seems slightly less impenetrable than pre-pandemic. Frankly, fans and all participants would prefer if Boris, Patel and co kept their boots off the pitch and out of sport entirely. We've all had enough intrusive politics to scar us for a lifetime.